Indus Holdings, Inc. Announces DTC Eligibility, Streamlining Process for Cannabis Industry Investors
California cannabis leader receives approval from Depository Trust Company
SALINAS, Calif., Nov. 18, 2019 (GLOBE NEWSWIRE) -- Indus Holdings, Inc. ("Indus") (CSE:INDS; OTCQX: INDXF), a leading, vertically-integrated cannabis company, has received approval for its common shares, traded under the symbol INDXF, to be eligible for electronic clearing and settlement through New York's Depository Trust Company (DTC). The approval provides an accelerated process for investors and represents a significant step forward for Indus Holdings, Inc.

"With DTC eligibility, Indus is streamlining the process for current and future shareholders and expanding our market presence," says Co-Founder and Chief Executive Officer Robert Weakley. "We're looking forward to engaging with more investors as we continue to grow our position in this industry."
Founded in 1973, the Depository Trust Company (DTC) is responsible for managing the electronic clearance and settlement of publicly traded companies.
About Indus Holdings, Inc.                                                         
Indus Holdings, Inc. (CSE:INDS) is a vertically-integrated cannabis company with advanced production capabilities, including cultivation, extraction, manufacturing, brand sales & marketing, and distribution. Founded in 2014 and based in Salinas, California, Indus offers services supporting every step of the supply chain and an extensive portfolio of award-winning brands, including House Weed, The Original Pot Co., MOON, Acme, Beboe, Dixie Elixirs & Edibles, and Orchid Essentials. Indus Distribution, a division of Indus Holdings, Inc., is a leading distributor of cannabis products, servicing an extensive portfolio of brands and licensed retailers.
Investor Relations Contact
ir@indusholdingco.com
Media Contact
pr@indusholdingco.com
Company Contact
Robert Weakley
+1 831-293-3506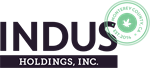 Source: Indus Holdings, Inc.

Released November 18, 2019